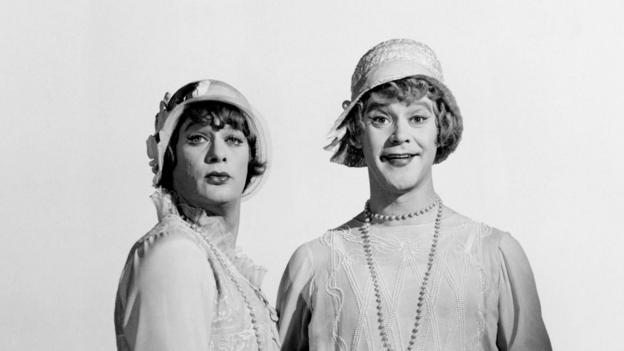 Some Like It Hot

—

Directed by Billy Wilder

—

Starring Marilyn Monroe, Tony Curtis, Jack Lemmon, and Joe E. Brown
Some Like It Hot (1959) directed by Billy Wilder cleverly uses musical language to code for queer behavior. I will admit I had queer on my mind when Taryn called me and said, "Hey, Greig, they're playing Some Like It Hot at the Prytania Theater." I said to her, "I cannot wait for a gender-bender adventure!" The theater is a one-screen cinema that plays blockbusters at night and classics in the daytime. The house's proprietor, Mr. Rene Brunet, a sweet, intelligent geriatric, bemused us with some benign trivia about the film. When he talked about Marilyn Monroe I wanted to quote Roger Ebert, who said of the star: she's "Poured into a dress that offers her breasts like jolly treats for needy boys."
But, after Mr. Brunet gave his spiel he motioned the camera guy — "Hey, Robert get those melodies rolling!" — and played "Let's All Go to the Lobby" before the show started. Seated in a nearly full house, as if we were back in 1959, Bugs Bunny gave his last grin and the feature began.
The black and white film is covert homosexuality created under a suspicious McCarthy era period posing as a comedy of errors murder mob mystery — the cross-dressing so seamlessly dropped into the plot as to seem virtually harmless even to the most suburban, collected type. Seeing the film fifty years after it was made, it is easy to see the sex beneath the subtext. Almost every line is a double entendre if you can catch it quick enough. Daphne (Jack Lemon) proposes a cross-dressing scheme to Josephine (Cary Grant) to get them out of debt in circa 1920s Chicago.
The rest of the movie is all out drag. Let me just say this about the film: Daphne is queerer than Josephine. If you know the film you know what I mean. If you don't know the film, then you are in for a treat and I won't spoil the uproarious ending. Josephine resists until both are found by the mob as witnesses to a murder. Donning a wig and a dress, Josephine and Daphne take a train to Florida to join "Sweet Sue's Society Syncopaters."
Ostensibly a pair of straight guys has to save their asses dressing up as women, retaining their straight status only by the extension of voluptuous Marilyn Monroe. Without her Daphne is a drag queen in love with a millionaire played expertly by Joe E. Brown and Josephine is a dominatrix queen with a penchant for saxophones.
It is here we hear the film's title, "some like it hot," when Jack Lemon's character refers to the women's syncopated rhythm as "hot." I cannot help but think the word hidden beneath the word is "queer." Plain Jane straight people probably prefer un-syncopated tunes, but we queers like our beats syncopated! Some guys and girls like it different than other guys and girls: they like it hot, suggesting breaking musical boundaries is akin to crossing over into sexual taboos.
Geraldine warns Daphne not to sleep with Sugar, but in the end, it is Josephine wooing Sugar and Daphne running with the girls on the beach enjoying his womanhood. Cary Grant, with angular lines and a pair of succulent lips, is a more beautiful woman than Jack Lemmon's less than beautiful ogee and awkward broad shoulders Marilyn Monroe seems to admire!
Some Like It Hot is an example of queering straight.