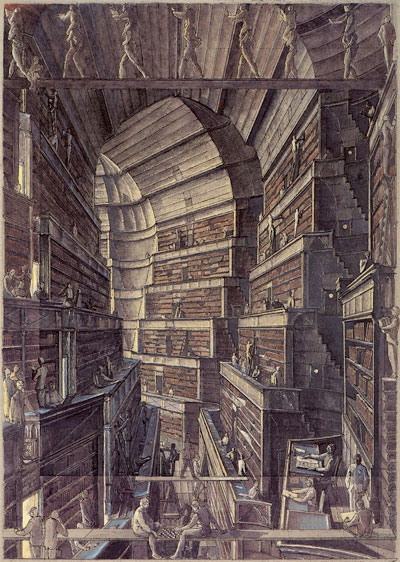 An illustration of the Library of Babel by Erik Desmazieres 
Librarians share two major philosophical preoccupations:
The idea of a total library

The futility of such a library.
Librarians are "total" in their desire for a perfect, or a complete library, but, unfortunately, the totalitarian nature of librarians has fossilized the notion that if it isn't in the library then it doesn't exist. The "if it is not in the records it does not exist" idea is as old as recorded history. The promise of complete, total, accessible knowledge (the first preoccupation) is shadowed by the librarian's futile wading through miles and miles of totality (the hell) to search and find that one piece of totality that one is looking. The total nature of the catalog is supposed to mirror precisely what is on the shelf. But the maddening job of the cataloger is to constantly check the catalog against what is on the shelf and fix any errors; this process has the hope of finish but is bound to be endlessly nonfinished. Librarians spend hours cleaning records, assigning call numbers, shelving books in an endless cycle of return. This nature of librarianship is actually not only the preoccupations of Library Science but of Western Philosophy in general.  Ever since the philosopher Thales posited that there must be something material that underlies all existence — we will forgive him for positing water — philosophers have searched for a univocity, or an absolute to explain that which undergirds reality. Of course, the philosophical search comes short. There is a futility in this search (think of Adam futile search to name all animals or Aristotle's futile search to give names to everything) although it does not cancel out the desire to search. That, my dear, is the paradox of the quest.